This is an archived article and the information in the article may be outdated. Please look at the time stamp on the story to see when it was last updated.
A wildfire that quickly grew to 2,000 acres Monday has prompted the evacuation of about a thousand residents in the Corona area.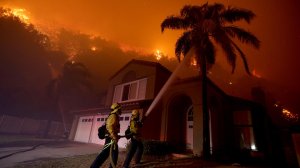 The so-called Canyon Fire was initially reported at 1:30 p.m. and had burned 25 to 30 acres by 2 p.m.
By 6:40 p.m. the blaze had grown to 1,500 acres and grew to about 2,000 acres by 9:20 p.m. About 300 firefighters from several agencies are battling the blaze.
Mandatory evacuations are in effect in the following areas:
The Dominguez Ranch neighborhood.
Homes south of Green River Road from the 91 to Trudy Lane at the Orchard Glen development.
An evacuation center has been set up at: 
Corona High School, 1150 W 10th St.
Road closures:
Dominguez Ranch Road, Nicholas Place, Canyon Crest Drive, Boulder Drive, Suncrest Drive, Ridgeline Drive (south of Green River), Serfas Club (south of Green River), Montana Ranch Road, Del Mar Way and Trudy Way are closed, according to the Los Angeles Times. 
The 91 Freeway was backed up in the area as the flames could be seen from the highway, aerial video showed.
The following schools are expected to be closed on Tuesday:
Adams Elementary School
Cesar Chavez Academy
Coronita Elementary School
Prado View Elementary School