This is an archived article and the information in the article may be outdated. Please look at the time stamp on the story to see when it was last updated.
A man tried to set his neighbor's home on fire in Canyon Lake months after a previous attempt to burn it, police announced Thursday.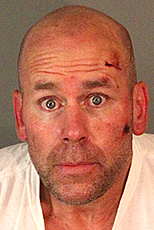 David Brian Harry, 45, was arrested on Wednesday for attempted murder, arson and committing a felony while out on bail, according to a news statement from Canyon Lake police.
Earlier that day, his female neighbor — who lived on the 28000 block of Yosemite Place — called 911 after Harry allegedly threw a wooden stake and a burning road flare through her living room window, authorities said. The flare ignited a fire in her home, burning the window blinds and carpet, according to police.
Before the house caught fire, the victim took the flare and threw it onto her driveway, authorities said.
As the woman walked out of the house, Harry, her next-door neighbor, confronted her, yelling several expletives and "vulgar comments," officials said. He also allegedly ignited another road flare and set the victim's wooden fence on fire. The victim was able to douse the flames with a garden house then called 911, according to police.
Canyon Lake police reported arriving at the scene and engaging with the suspect before he fled in his pick-up truck. Officers and Riverside County Sheriff's deputies pursued him from Canyon Lake to Lake Elsinore, continuing into Corona.
Officials said California Highway Patrol officers took over the pursuit and disabled Harry's tires on the 15 Freeway, but the suspect continued to lead the officers on a slow-speed pursuit on the 91 Freeway towards Orange County.
Harry exited the freeway near Featherly Park in Yorba Linda and stopped near the inter-county bike trail, according to authorities. After refusing to obey commands, he was eventually taken into custody and taken to the Sheriff's Department's Perris station.
The suspect was booked into jail and was denied bail because he had committed "virtually the same criminal act" on the  same residence in April, the police statement said. Harry's motive was unclear.
Anyone with information about the case or the suspect can call the Perris sheriff's station at 951-210-1000 or email PerrisStation@RiversideSheriff.org.