This is an archived article and the information in the article may be outdated. Please look at the time stamp on the story to see when it was last updated.
Authorities are searching for a driver who crashed into a bedroom where two children were sleeping in a home in the unincorporated West Puente Valley area of Los Angeles County Wednesday morning.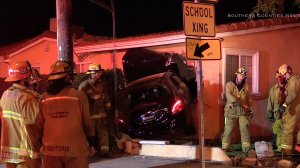 The crash occurred about 2:15 a.m. near the intersection of Temple Avenue and Duff Avenue.
Deputies received a call of a vehicle, which turned out to be a black Mercedes-Benz with dealership plates, that had crashed into a home, Los Angeles County Sheriff's Department Dept. Chavarria said.
The car ended up partially inside the house, coming to a stop in a bedroom where investigators said two children were sleeping.
The driver of the vehicle fled the scene on foot and is being sought by authorities, Chavarria said.
No description of the driver was immediately available.
It was unclear how many other people were inside the home at the time of the crash.
Family members said the children, 11 and 14-year-old boys, were not injured in the crash.
KTLA's Irving Last contributed to this report.