This is an archived article and the information in the article may be outdated. Please look at the time stamp on the story to see when it was last updated.
A man was killed and a woman was hospitalized in serious condition after a vehicle crashed into a bus stop at a busy intersection in North Hills Tuesday.
The crash was reported just before 10:45 a.m. in the 8700 block of North Sepulveda Boulevard (map), according to Cody Weireter of the Los Angeles Fire Department.
A solo vehicle crashed into a bus stop at the location, and the driver was transported to a hospital, Weireter said.
An adult male died at the scene and an adult female was transported to a hospital in serious condition, according to Weireter.
The fatality was a Hispanic male in his 70s, according to the coroner's department.
At least three damaged vehicles were on scene; they appeared to be a red Chevrolet Camaro, a gray Honda sedan and a gold Nissan Sentra, aerial video showed.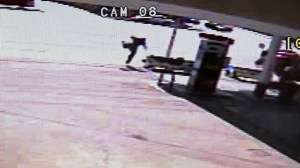 Multiple police patrol cars were on scene, where two long green bus benches had been knocked onto the pavement at a 76 gas station at the intersection of Sepulveda Boulevard and Parthenia Street.
The Camaro had been heading south on Sepulveda Boulevard when it hit a car pulling out of a parking lot then slammed into another car and then into the bus stop, police said.
Police initially said a man who had been sitting on a bus-stop bench was killed, but witnesses said the man had been walking on the sidewalk when he was hit.
His body remained at the scene Tuesday afternoon. A young woman who had been walking near the crash scene was also injured.
The Camaro's driver was the vehicle operator who was hospitalized, authorities on scene said.
Surveillance video from the 76 station showed the Camaro clip one man before slamming into the two benches, hitting the young woman and the man who was killed. The fatal impact cannot be seen in the surveillance video.
The man who narrowly escaped the collision did not want to be identified but said he was barely grazed when he jumped over the hood of the oncoming car.
"It barely missed me," he said. "It's crazy. I could have been gone in an instant."
The woman who had been hit had a twisted leg and was calling for help, he said.
Investigators were examining physical and video evidence to determine if speed was a factor, said Capt. Maureen Ryan of the Los Angeles Police Department.
"I don't believe there was racing," Ryan said, warning that the investigation was just beginning.
Witnesses were asked to call the LAPD.