This is an archived article and the information in the article may be outdated. Please look at the time stamp on the story to see when it was last updated.
Authorities were searching for a driver Thursday who crashed into a home in Whittier and left a 4-year-old boy pinned underneath the car.
A tow truck had to pull the car out of a bedroom following the crash near the intersection of Imperial Highway and Marquardt Avenue.
Video from the scene showed the car had crashed through a cinderblock wall before going through a wall of the home.
On the other side of that wall was Irene Mesan's 4-year-old grandson, who was asleep in bed, she said.
The grandmother said she had to bust through the jammed bedroom door to get to the boy, who was still pinned underneath the vehicle.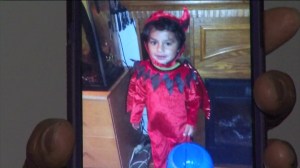 Somehow, Mesan said, her grandson escaped with only cuts and bruises, and was expected to be OK.
Mesan's son was also in the room at the time of the crash, but she said he was still up playing video games instead of sleeping and that may have saved him.
Authorities were searching for the driver who fled the scene following the crash.
There was no word on the driver's identity.