This is an archived article and the information in the article may be outdated. Please look at the time stamp on the story to see when it was last updated.
The cause of the fiery crash that killed actor Paul Walker and former racing driver Roger Rodas was "unsafe speed for the roadway conditions," a Los Angeles County Sheriff's Department commander said Tuesday.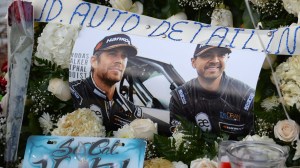 The results of a traffic collision investigation into the Nov. 30, 2013, crash were released at an evening news conference at sheriff's headquarters in Monterey Park.
The 2005 Porsche Carrera GT that Rodas was driving was going between 80 and 93 mph at the time of the crash, according to Cmdr. Mike Parker of the sheriff's North Patrol Division. An exact speed could not be pinpointed, Parker said.
The posted speed limit at the site of the Santa Clarita crash (map) was 45 mph.
"Investigators determined the cause of the fatal solo-vehicle collision was unsafe speed for the roadway conditions," said Cmdr. Mike Parker of the sheriff's North Patrol Division said in a news release.
The car hit a power pole and several trees and burst into flames, bringing people running to the scene. It was totaled and nearly split in half, authorities said.
Before firefighters and sheriff's deputies arrived, a witness ran to the crash and was among several people who attempted to use fire extinguishers to put out the blaze, according to the 40-page traffic collision report. The "intense heat of the flames" forced the witnesses away from the car and its two occupants, the report stated.
Another witness told investigators she saw the car fishtail and travel out of sight before the crash.
Walker, 40, and Rodas, 38, were found dead in a "pugilistic stance," an autopsy report released in January stated. There was no evidence of drugs or alcohol in either man's system, according to a coroner's report. The autopsy reports for both men stated that the Porsche had been traveling at more than 100 mph before it crashed.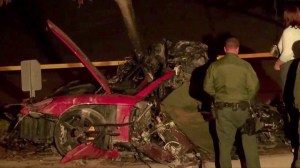 The crash generated intense interest from fans of Walker's appearances in the racing movie series the "Fast & Furious."
An examination of the wreckage and the vehicle's history showed "no pre-existing conditions that would have caused this collision," the sheriff's news release stated.
There were "critical speed scuffs" left by all four tires, the report states. The tires were more than nine years old, according to a 70-page supplemental report.
"During the examination, it was determined that an aftermarket exhaust system had been installed which would have increased the engine's horsepower," Parker said.
Both men wore seat belts, and air bags inflated properly on both sides.
Investigators spoke with representatives of Michelin tires and Porsche, whose engineers helped translate data from modules in the car from German into English, the report stated.