This is an archived article and the information in the article may be outdated. Please look at the time stamp on the story to see when it was last updated.
A car flew off the 5 Freeway in the City of Orange Sunday night and landed in a motel parking lot, trapping the driver inside.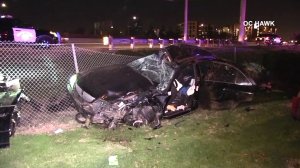 Alexis Esparza, who was in another vehicle just before the crash, said he saw the car attempt to cut from the far-left lane to the far-right lane and then flip off the northbound side of the freeway.
Esparza exited the freeway to check on the driver, who was still conscious after landing in the parking lot of the Motel 6 in the 2900 block of West Chapman Avenue.
"I thought it was a miracle for him to be alive," Esparza said.
Rescue crews got to the scene about 10:42 p.m. and freed the driver from the car.
"Damage to the door made it difficult to extricate the patient, so we had to use the Jaws of Life," Orange Fire Department spokesman Erik Birkelbach said.
Firefighters rescued the driver from the vehicle in about 12 minutes, Supervisor Sam Ahmuada said.
The man was transported to a local hospital and is expected to survive.
There was no word on the cause of the crash, or if drugs or alcohol were involved.