This is an archived article and the information in the article may be outdated. Please look at the time stamp on the story to see when it was last updated.
A body was discovered inside a submerged car in the Littlerock area Friday, and authorities say the vehicle may be linked to a teen who went missing several days ago.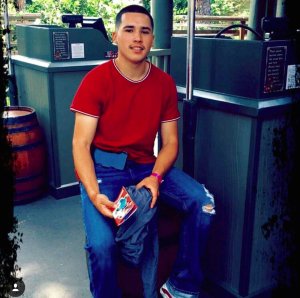 Gustavo Santana, last seen on Sept. 4, was wearing his McDonald's work uniform as he headed out to his job, according to a flier.
Santana had called to say he would be 5 minutes late to work, but never made it in that day.
His mother went out to look for him after he failed to return home from his job and subsequently reported him missing, the flier stated.
Santana's car was described as an orange 2013 Dodge Dart, with a license plate No. of 7J4747.
A car matching the description of the missing teen's vehicle was located in the aqueduct in Littlerock on Friday, according to the California Highway Patrol.
It was found after employees from the California Department of Water Resources observed damage to a fence around an aqueduct, threw a line out, and hooked something in the water, CHP Officer Monique Mischeaux said.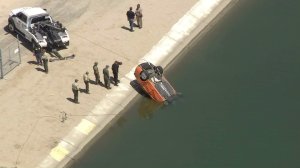 The Los Angeles County Sheriff's Department's and California Highway Patrol responded to the scene to investigate after evidence of a car crash was uncovered, Mischeaux said.
A sheriff's dive team was utilized during the search of the aqueduct for the vehicle, which was located underwater, the Los Angeles County Sheriff's Department tweeted around 12:30 p.m.
Authorities pulled the the car out of the water just before 1 p.m., Sky5 aerial video showed.
A Hispanic male was found deceased inside the vehicle, CHP Lt. Michelle Fournier said. She confirmed the vehicle matched the description of one being sought in the missing person case.
The Los Angeles County coroner's office responded to the scene.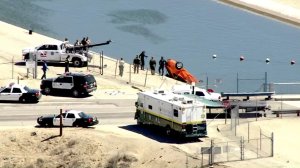 The name of the victim has not yet been released, and authorities said it's still unclear whether the person found in the car was the missing teen.
Santana's girlfriend, Makayla Ortiz, told KTLA her boyfriend had just celebrated his 18th birthday and had recently graduated from high school. 
A vigil was planned to take place at the scene around 8 p.m.
The crash remained under investigation, but the preliminary evidence showed that the vehicle was traveling along 106th Street East when it veered left across two lanes and hit a raised curb before striking a fence and ending up in the aqueduct, Fournier said.
She did not state when the crash occurred.