This is an archived article and the information in the article may be outdated. Please look at the time stamp on the story to see when it was last updated.
Riverside County sheriff's deputies shot and killed a carjacking suspect after a chase came to an end in Menifee early Sunday, officials said.
A Murrieta Police Department K-9 was also shot and wounded by the suspect during the deputy-involved shooting, which took place about 6:30 a.m. at Menifee Road and Garland Lane, according to Riverside County Sheriff's Department and Murrieta Police Department officials.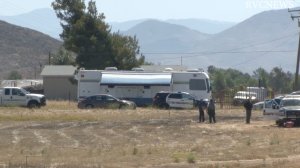 The series of events began with a report of an attempted carjacking and shooting about 3:50 a.m. at Scott and Hahn roads, Riverside County sheriff's Deputy Mike Vasquez said.
"The suspect brandished a weapon and attempted to take the victim's vehicle," Vasquez said in a written statement.
"The victim fled the scene, and during his departure, the suspect shot at him," Vasquez said. "The victim is being treated at a local hospital for his injuries."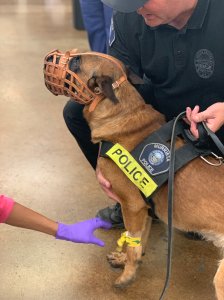 A second, successful carjacking was reported in the same area just under an hour later, officials said. The took a driver's white BMW sedan at gunpoint and drove away.
Deputies found the just-stolen car a short time later in Lake Elsinore. The driver refused to pull over, leading deputies on a chase. Murrieta police also joined in the effort.
The chase led back to Menifee.
"After the suspect stopped the stolen vehicle, he produced a firearm and a deputy- (and) officer-involved shooting occurred," according to Vasquez.
While no human deputies or officers were hurt during the incident, a Murietta police K-9 named Mick was wounded, Murrieta police said in written statement.
"During the apprehension, K-9 Mick was shot by the suspect and sustained a gunshot wound to his lower jaw and neck," the police statement said.
Mick was rushed to a veterinary hospital and was expected to make a full recovery, police said.
The suspect's identity was not released Sunday afternoon.
Detectives from the Riverside Sheriff's Department's Central Homicide Division were spearheading the investigation.
Anyone with information on the incident was urged to contact Central Homicide Division Detective Paz at 951-955-2777, or Perris Sheriff's Station Investigator Salisbury at 951-210-1000.
Update #2- Streets will remain closed for sometime while Central Homicide and forensic technicians are processing the scene. No additional updates, press release to follow. https://t.co/nTdZftCsZB

— Riverside County Sheriff's Dept (@RSO) June 9, 2019
#Menifee 6/9/19, Just after 6:30 AM, Deputy Involved Shooting (DIS) at Menifee Rd & Garland Ln. Updates & details regarding incident to follow. pic.twitter.com/DpOJ8I4o2N

— Riverside County Sheriff's Dept (@RSO) June 9, 2019