This is an archived article and the information in the article may be outdated. Please look at the time stamp on the story to see when it was last updated.
Health officials were alerting Manhattan Beach residents Thursday to a recent case of typhus fever in the neighborhood around Polliwog Park.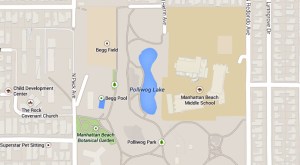 No information was released regarding the identity of the victim or how they contracted the disease.
Typhus fever can be transmitted by fleas and lice generally from "wildlife, feral cats, stray dogs or free-roaming pets," according to a news release from the Manhattan Beach Police Department.
Symptoms include a severe headache, high fever, cough, rash, muscle pain and chills, according to the Centers for Disease Control.
"This disease is readily treatable with the appropriate antibiotic therapy," the release stated.
For further information contact the Environmental Health Vector Management Program at 626-430-5450 or Acute Communicable Disease Unit at 213-240-7941.