This is an archived article and the information in the article may be outdated. Please look at the time stamp on the story to see when it was last updated.
A group of bystanders helped foil an attempted carjacking of a mother and child in San Diego on Sunday, and the whole incident was caught on video.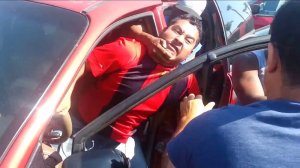 The incident, which occurred in broad daylight, began in front of the Appletree Market on University Avenue in the City Heights area when a man allegedly got into a minivan with a woman and her child inside and drove off, KTLA sister-station Fox 5 San Diego reported.
The minivan stopped when it hit a pole, according to the television station.
Hearing a woman and child screaming inside, a group of men immediately sprang into action.
Video from the scene that was posted to YouTube by user Aaron Leaf showed the bystanders dragging the driver — identified by Fox 5 San Diego as 21-year-old Ismael Hernandez — out of the vehicle and forcing him to the ground a short distance away. Some of the men could be seen punching the driver in the video.
The bystanders detained Hernandez at the scene until police arrived.
The woman and child were not seriously hurt, the TV station reported.
"I think it's great the community would stand up against [Hernandez]," Leaf told Fox 5 San Diego. "They definitely didn't use too much force. They could have continued to beat him, but they decided to hold him down so the cops could come. Police aren't always around to catch people. It's great the community would jump in."
Hernandez has been booked into San Diego County Jail on suspicion of a number of charges, including attempting carjacking, kidnapping and vehicle theft, and DUI, according to the station and inmate records.
He was being held on $110,000 bail, inmate records showed. Hernandez was scheduled to be arraigned on Wednesday.