This is an archived article and the information in the article may be outdated. Please look at the time stamp on the story to see when it was last updated.
Dramatic cell phone video taken by a scared family captured the tense moments when deputies and a man began shooting at each other on the streets of Apple Valley on Wednesday afternoon.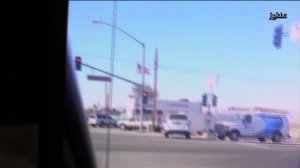 Deputies with the Los Angeles County Sheriff's Department were searching for the man, who was wanted in connection with a homicide, when they spotted him driving a pickup truck around 5 p.m. , according to San Bernardino County Sheriff's Department spokeswoman Cindy Bachman.
The man, who has not been identified, stopped his vehicle in the northeast corner of Bear Valley and Central roads (map) and allegedly began exchanging gunfire with deputies, Bachman said.
A family was in a vehicle at the intersection when the shooting stated.
"Oh my God, oh my God, daddy!" a frightened girl said in the video, as more than a dozen gunshots can be heard in the background.
"Don't move, don't move, don't move," a man calmly responded. "Just don't move."
As the girl got more and more panicked about what she was witnessing, the man can be heard saying, "He's down."
The alleged shooter was struck by gunfire and later pronounced dead at the scene.
The wife of the man who shot the cell phone video described what she saw during the confrontation.
"I saw a cop car going between in all the cars… and I saw the guy get out pull a pistol, and he aimed it at the suspect," Crystal Miller said. "And he was yelling and screaming, I don't know what he said. And then all of a sudden I heard shots fired."
The intersection where the shooting occurred was shut down for hours while investigators combed for evidence.
Both sheriff's departments would be investigating the incident, Bachman said.
KTLA's Rose Razeghi contributed to this report.