This is an archived article and the information in the article may be outdated. Please look at the time stamp on the story to see when it was last updated.
Tuesday was a day of celebration as Bruno, the Anaheim police K-9 shot in the face in a confrontation with a gunman, formally said goodbye to his fellow officers at his retirement party.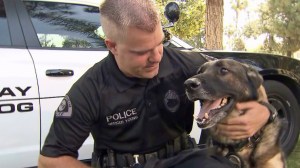 A six-year veteran of the Anaheim Police Department, Bruno spent most of the day bonding with fans at an Anaheim park, alongside his handler, Officer R.J. Young.
"It's been an honor, and it's a bittersweet thing… but he's retiring on top," Young said choking back tears.
Bruno, a 7-year-old German shepherd, suffered career-ending injuries when he was shot by a gunman, identified as 21-year-old Robert Moreno Jr., during a police altercation on March 20.
The bullet shattered Bruno's jaw and pierced his lung before stopping near his heart.
Moreno was shot and killed by officers, according to police. Following the incident, police credited Bruno with saving the lives of three officers.
"I couldn't be more proud of my boy … He did his job perfectly," Young said. "Myself and other officers went home that day because of him."
After six weeks and multiple surgeries, Bruno finally left the Yorba Linda Regional Animal Hospital on May 2. His recovery was followed closely by a group of fans from around the world.
"If it wasn't because of a dog, probably we wouldn't have an officer here today," Rosa Pineda, a Bruno supporter, said. "So I think that it's just remarkable that we're honoring him right now."
"I'm so thankful to have him home," said Young, who will be Bruno's official owner, but no longer his police partner.
KTLA's Kareen Wynter contributed to this report.