This is an archived article and the information in the article may be outdated. Please look at the time stamp on the story to see when it was last updated.
The cellphone and truck belonging to a missing Yuba College student who vanished without a trace last week have been located and recovered by police, authorities in Northern California said.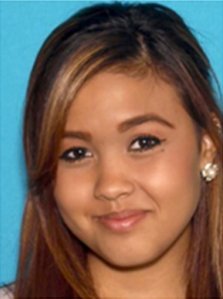 Alycia "Aly" Yeoman, 20, was reported missing on Saturday after she missed two days of work, according to the Gridley-Biggs Police Department.
She hasn't been seen or heard from since last Thursday night, when she was spotted driving her 1998 green Toyota Tacoma truck down Romero Street in Yuba City, police said in a news release.
Yeoman's pickup truck was found unoccupied about 5 p.m. Monday, in the area of Pennington Road in Live Oak, according to police.
The vehicle was in an orchard, KTLA sister station KTXL in Sacramento reported.
That same day, a cellphone was also discovered by a citizen in the approximate area of the missing woman's truck. The individual tried to turn the phone on in an attempt to identify its owner, but the device only momentarily turned on before losing power, according to investigators.
Police have confirmed the cellphone belonged to Yeoman.
On Tuesday, local law enforcement agencies combed the area of Pennington Road in search of the missing student, but were unable to locate her.
As search efforts intensified, additional resources were being called in to help on an as-needed basis, authorities said.
Thus far, there have been no "credible leads" of foul play or suspicious circumstances in Yeoman's disappearance, according to investigators.
In an interview with KTXL on Tuesday, the woman's ex-boyfriend, Leo Almonte, described Yeoman as "free-spirited," telling the station she "just does what she wants to do."
That might explain, he said, the location of where her truck was discovered.
Almonte told KTXL that Yeoman generally kept her plans to herself, and liked to avoid the main roads that were often patrolled by police.
The last time the pair spoke was last Wednesday, the day before she vanished.
"She pours out her feelings on me like what's in her mind...her stresses and stuff like that.  And maybe she just wanted, maybe she went over there to walk and clear her head and from there ... I don't know what happened. That's what we're trying to find out," he said.
Almonte told the station that Yeoman's personality draws acquaintances, and that she has many friends.
"Everybody just loves her, and I don't see anybody harming her," he said.
Yeoman is described as 5 foot 4 inches tall, weighing about 125 pounds with brown/blonde hair, according to police. She has braces, a nose ring and a small mole near her left eye.
Anyone with information is urged to call police at 530-846-5670.