This is an archived article and the information in the article may be outdated. Please look at the time stamp on the story to see when it was last updated.
A 39-year-old undocumented immigrant has been accused of raping intoxicated female college students in San Luis Obispo who he was supposed to be safely transporting home as a driver for Uber, officials said Monday.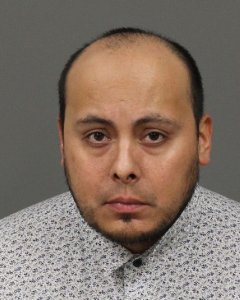 Santa Maria resident Alfonso Alarcon-Nunez also entered the young women's homes and robbed them, prosecutors with the San Luis Obispo County District Attorney's Office allege.
Nunez was charged Monday with 10 felony counts involving four victims. The crimes allegedly occurred between Dec. 17, 2017, and Jan. 14, 2018, according to District Attorney Dan Dow.
"We have evidence that leads us to believe there are other victims," Dow said, and investigators are analyzing DNA samples in an attempt to identify them. Although there are only charges related to four victims, he is a suspect in seven separate investigations.
The Mexican citizen previously left the country voluntarily from New Mexico in 2005, according to Dow. Officials were unsure of the circumstances other than that he was asked to leave by U.S. Immigration and Customs Enforcement and departed of his own volition. It is unclear when he returned to the U.S.
Dow said he couldn't comment on Nunez's possible criminal history, but said the 39-year-old did have a valid California driver's license issued in 2015.
While it is legal for undocumented immigrants to obtain a driver's license in the state of California, it's less clear how someone might end up on payroll for a company like Uber without a social security number. The Associated Press reported that Nunez used the money transfer app Venmo to disguise his identity.
"In my mind, the relevance of his immigration status really points more to the safety of services like Uber," Dow said of Nunez.
Officials began investigating Nunez after a 19-year-old college student reported on Dec. 18, 2017, that she and her roommate had been sexually assaulted and robbed by the Uber driver who took them home the night before.
That driver was identified as Nunez, Dow said. He has also been known to work under the alias of Bruno Diaz.
While investigating the Dec. 17 crime, officials uncovered evidence that supported filing charges involving four victims.
His full list of charges includes two counts of rape of an intoxicated victim, two counts of oral copulation of an intoxicated victim, one count of forcible rape, one count of assault to commit a felony, three counts of first-degree residential burglary and one count of grand theft.
In at least one of the instances, Nunez was not assigned to pick the victim up but parked outside an establishment to "jump in front of the actual Uber driver" and "take someone unsuspecting to their home," according to AP.
All four women are college students in San Luis Obispo County, but officials did not disclose which school they attend. The community is home to two college campuses: Cal Poly San Luis Obispo and Cuesta College.
County officials said they are working with the women to possibly relocate some of them and secure reparations from the California Victim Compensation Board.
Prosecutors are hoping additional victims will come forward and said they believe there could be others in Santa Barbara County, where Nunez is known to have been active as an Uber driver since at least September 2017.
District Attorney Dow said he plans to prosecute Nunez in the same manner as he would anyone else accused of a crime in the United States.
"His immigration status is not relevant for the purpose of this prosecution," he said. "We will treat this case as we would any other case that we come across."
Nunez is being held on $1.47 million bail and is scheduled to return to court on Jan. 29.
Anyone with information or who believes they might have been victimized can contact San Luis Obispo County prosecutors at 805-549-7867.