This is an archived article and the information in the article may be outdated. Please look at the time stamp on the story to see when it was last updated.
Freezing temperatures are forecast to sweep much of California this week, potentially endangering the state's almonds and other lucrative Central Valley crops.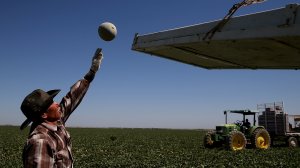 Temperatures in most rural areas of the San Joaquin Valley, the heart of the state's agricultural sector, are expected to fall to the mid-20s Tuesday morning. The below-freezing weather could kill blooms on almond and cherry trees, which appeared earlier than usual because of the unseasonably warm weather this month. California produces 80% of the world's almonds, according to the Almond Board of California.
"The warmer-than-usual weather brought the blooms out and now the freezing temperatures are putting them in peril," said Jim Bagnall, a National Weather Service meteorologist in Hanford. "Without the blooms, there are no nuts. It could have a significant effect on the harvests."
Forecasters said the breakdown of a high pressure system, which brought weeks of warm weather, opened the way for a cold storm system from Canada to barrel through California. The cold and dry air mass will combine with clear skies to cause temperatures to plunge overnight Monday and Tuesday.
Read the full story on LATimes.com.