This is an archived article and the information in the article may be outdated. Please look at the time stamp on the story to see when it was last updated.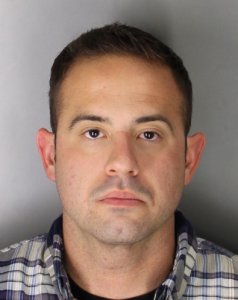 A Central Valley police sergeant was charged Tuesday with meeting a minor for lewd purpose after being found in a parked car with a teenage girl, officials said.
Porterville Police Sgt. Wayne Martin, 33, was discovered in the compromising situation Sunday after deputies responded to a report of a suspicious vehicle parked near a citrus grove in a remote area of the town, about 50 miles north of Bakersfield, the Tulare County Sheriff's Office said in a news release.
The responding deputies found there were actually two cars, parked one in front of another. But both Martin and the 17-year-old girl were inside one vehicle, authorities said.
Martin, who was off-duty at the time, identified himself as a sergeant, and the girl told the deputies that she is an Explorer scout with the department. Police Explorer programs give youth an opportunity to get acquainted with law enforcement work.
"The investigation, at this point, has resulted in the arrest of Porterville Police Sergeant Wayne Martin," the sheriff's release states. Investigators did not say what led them to believe there was foul-play involved in the meeting.
Martin was arrested on suspicion of three counts of annoying or molesting a person under the age of 18, authorities said.
On Tuesday, the district attorney's office charged him with three felony counts of meeting a minor for lewd purpose.
According to prosecutors, the incidents occurred between May and Sept. 16.
The sergeant also serves as head of the Porterville Police Officers Association, according to the Visalia Times-Delta.
The department's chief, Eric Kroutil, said in a statement released to the newspaper: "I am shocked, saddened and angry that Sgt. Martin has tarnished the image of the Porterville Police Department by his actions. His actions in no way reflect the values of the department or its employees and will not be tolerated."
Martin's bail had been set at $150,000. The Sheriff's Office was requesting he be held at the Kings County Jail, as he may have arrested others sitting in the Tulare County Jail.
The Sheriff's Office made a similar request last week, when it arrested another local police official.
Woodlake Police Officer Oscar Robles, 26, was arrested after two women separately came forward to accuse him of sexually assaulting them while he was on duty.
DA's officials charged him on Monday with 12 felony counts: two counts of assault by a public officer, two counts of sexual penetration by foreign object by means of threatening to use the authority of a public office, kidnap for oral copulation, assault with intent to commit oral copulation during the commission of a first-degree burglary, sexual battery by restraint, false imprisonment, attempted oral copulation under the color of authority, dissuading a witness, oral copulation under color of authority and rape by threat to arrest.
If convicted as charged, Robles could face life in prison.
Martin, meanwhile, would face a maximum possible sentence of six years in prison if convicted as charged, officials said.