This is an archived article and the information in the article may be outdated. Please look at the time stamp on the story to see when it was last updated.
A Cerritos College football player who was previously convicted of raping a girl while he was in high school has been arrested after allegedly raping a 19-year-old woman in Norwalk last year, authorities said Thursday.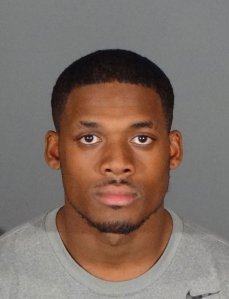 Kishawn Holmes, 21, was taken into custody on suspicion of rape and sexual assault on Feb. 22, according to a Los Angeles County Sheriff's Department news release.
The incident occurred on Sept. 8, 2016, according to the criminal complaint from the L.A. County District Attorney's Office.
Holmes is a student and football player at Cerritos College, which is located at 11110 Alondra Blvd. in Norwalk. The alleged rape did not take place on the school's campus, and happened at a home, according to sheriff's Sgt. Marvin Jaramilla with the Special Victims Bureau.
Speaking at an afternoon news briefing, Jaramilla said the alleged victim also attended the college. He believed she was acquainted with Holmes through her work as a student physical therapist, which entailed providing physical therapies to some of the football players and other athletes at the school. The alleged crime occurred during a physical therapy "session."
The sergeant said the victim disclosed the allegations to the Sheriff's Department. He asked for the public's help finding other potential victims.
"He befriended the victims. He's very casual with them," Jaramilla said.
Holmes has been charged with two counts of forcible rape, according to the criminal complaint.
The charges come nearly three years after Holmes was convicted in Riverside County of rape by force. On April 24, 2014, after pleading guilty, Holmes was sentenced to one year in custody and made a ward of the court, a spokesman for the Riverside County DA's office told KTLA. His wardship was terminated in January 2016.
That conviction was the result of 2013 charges that Holmes and a teammate at Vista Murrieta High School faced involving six underage female victims. Holmes was a standout football player and was 17 at the time he was charged in the 2013 Murrieta case. Though he was a juvenile, the DA's office released his name because of the nature of the crimes.
The other boy faced less serious charges; the result of that case is not clear.
At the time, KTLA covered the story but chose not to publish Holmes' name because he was a juvenile and had not been convicted. The Los Angeles Times reported Holmes' name.
In the 2013 case, Holmes was charged with: two counts of rape by force or fear; two counts of lewd and lascivious acts upon a child under the age of 14; three counts of false imprisonment; and one count of dissuading a witness who was one of the alleged rape victims.
Holmes was not required to register as a sex offender because he was a juvenile, Jaramilla said.
The criminal complaint against Holmes in the Norwalk incident cites his 2014 conviction for forcible rape. And at the briefing Thursday, Jaramilla confirmed the defendant was convicted of multiple sex crimes as a minor, saying he believed Holmes had spent some time at a juvenile facility.
"It was surprising. I didn't expect anything like that to ever happen" said Kyra Walls, a student at Cerritos College. Walls also said that the football team was shocked by the allegations.
"They played football with this guy so they were like they didn't expect that action to come out of him," Walls added.
On Feb. 24, Holmes pleaded not guilty to the felony charges. He is scheduled to return to court March 16 for his preliminary hearing setting, said Sarah Ardalani of the L.A. County DA's office.
He is being held at North County Correctional Facility in Castaic on $2 million bail – an amount that was "based on the incident and his past history," Jaramilla said.
Detectives with the Sheriff's Department's Special Victims Bureau are investigating the incident and "believe there are potentially additional victims related" to the case, the release stated.
Anyone who feels they have been victimized by the suspect or who has information about the investigation is urged to call the Special Victims Bureau tip line at 877-710-5273 or email detectives at specialvictimsbureau@lasd.org.
Those wishing to remain anonymous can leave a tip by calling Crime Stoppers at 800-222-8477 or by using the website lacrimestoppers.org.
KTLA's Melissa Pamer and Mariel Turner contributed to this story.