This is an archived article and the information in the article may be outdated. Please look at the time stamp on the story to see when it was last updated.
In the heated debate over California's efforts to slash its prison population, the case of Michael Christopher Mejia has become a political rallying cry.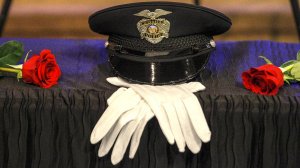 An admitted gang member, Mejia was charged last year with shooting two Whittier police officers – a crime the city's mayor and many in law enforcement saw as clear evidence of the failure of less strict sentencing laws.
Why, they asked, was Mejia even on the streets?
The killing of Officer Keith Boyer and wounding of another officer have galvanized a movement to ask state voters this November to reverse some of the recent changes to sentencing laws and the prison system.
Read the full story on LATimes.com.