This is an archived article and the information in the article may be outdated. Please look at the time stamp on the story to see when it was last updated.
Prosecutors added charges against a man accused of leading authorities on a pursuit that ended with a Silver Lake Trader Joe's manager being fatally shot by police gunfire last month.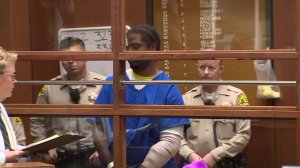 Bail against Gene Atkins was also increased to more than $23 million when he appeared in court Thursday morning. He was expected to enter a plea, but his arraignment was again continued to Sept. 19, after his defense team asked for more time to review evidence.
Twenty additional counts were added against Atkins, including mayhem and attempted carjacking, stemming from the July 21 incident that left Melyda Corado, the store's assistant manager, dead. Atkins now faces 51 charges, among them are murder and attempted murder.
The ordeal began in South L.A. where Atkins allegedly shot his grandmother seven times. He also allegedly shot his 17-year-old girlfriend in the head before stealing his grandmother's car. Los Angeles Police Department officers caught up with Atkins in Hollywood, where he led them on a chase. The pursuit ended when Atkins crashed into a pole outside the Trader Joe's along Hyperion Avenue.
Atkins then allegedly shot at officers as he ran into the store at the same time that Corado was running out. Officers returned fire, Corado was struck by LAPD gunfire and eventually died, police said.
Atkins is scheduled to appear in court again on Sept. 19.