This is an archived article and the information in the article may be outdated. Please look at the time stamp on the story to see when it was last updated.
Criminal charges have been dropped against the former boyfriend and business partner of a woman who was killed in an explosion at an Aliso Viejo day spa earlier this month, according to court documents obtained by KTLA on Tuesday.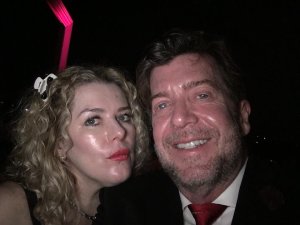 Stephen Beal, 59, was arrested and charged with a count of possessing an unregistered destructive device after a search of his Long Beach home uncovered what authorities believed were component parts of IEDs.
However, a further investigation by the FBI raised doubt as to whether the device met the criteria of a "destructive device," according to legal documents.
Because of that, prosecutors moved to dismiss the charges against the defendant.
FBI spokesman Thom Mrozek told KTLA in an email that the documents were prepared Saturday and brought before a judge that same afternoon.
The motion was subsequently granted and Beal was released early the following morning, he said.
As authorities earlier emphasized, Beal had not been charged in connection with the explosion that killed his former girlfriend and business partner, 48-year-old Ildiko Krajnyak, at her day spa on May 15.
The victim co-owned the spa with Beal, a partnership that started after the two met online and began dating in June 2016.
Even after the couple broke up earlier this year, their professional relationship continued. Beal still paid the spa's monthly rent, as well as half of its operating costs, according to authorities.
He has since entered a new relationship, and it was that woman who urged Beal to contact authorities after she saw news of the fatal explosion at the medical office building where the spa was located.
A search warrant was issued at Beal's Long Beach home the day after Krajnyak's, death, and investigators found what were described in earlier court filings as two improvised explosive devices, along with chemical precursors and component parts of IEDs.
Beal told the FBI he was a model rocket hobbyist, though the last time he touched the rocket-making equipment was back in 2004.
"He used to make rockets that are about as big as I am. He'd do it right here in the driveway by his garage, so he'd go out to the desert and fire them off," neighbor Mushroom Montoya told KTLA following Beal's arrest. "Police are going to check everything out, and unfortunately he has a hobby that would have something that's explosive."
Beal stated he also used to make fireworks, including mortars, according to investigators. But he stopped after Sept. 11, 2001, saying he did so because he didn't want to give off the "wrong impression," according to court documents.
The FBI is investigating the day spa blast as an intentional act, but they have not identified any suspects, nor have they made an arrest in the case. An investigation is ongoing.
KTLA's Jennifer Thang contributed to this story. 
Stephen Beal outside his home after charges dropped, but not answering reporters' questions about the case pic.twitter.com/9b6ybbHBLq

— Chip Yost (@ChipYost) May 29, 2018