This is an archived article and the information in the article may be outdated. Please look at the time stamp on the story to see when it was last updated.
The 46-year-old driver of a dump truck involved in a fatal collision with a LAPD cruiser last year in Beverly Hills was charged Monday with gross vehicular manslaughter.
Roberto Maldonado was arrested by the California Highway Patrol on Friday, nearly one year after the collision that killed 16-year LAPD veteran Nicholas Lee, according to a news release from the Los Angeles County District attorney's Office.
The Pacoima resident was released on Saturday after posting $50,000 bail.
The crash occurred around 8 a.m. on March  7, 2014 at the intersection of Robert Lane and Loma Vista Drive.
Maldonado, who owns the dump truck company, collided with the police cruiser after his brakes failed, the release stated.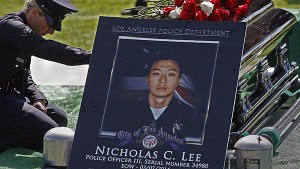 Officer Lee and his partner were responding to an "unknown trouble" radio call when they were struck, according to the Los Angeles Police Department.
Lee was pronounced dead at the scene.
His partner was transported to a local hospital and was later released.
An investigation by the CHP determined that the truck's brakes failed because Maldonado failed to properly maintain and inspect the truck as required by his carrier permit, according to the DA's office.
Maldonado was scheduled to be arraigned March 20.
If convicted as charged, he faced up to six years in state prison.