This is an archived article and the information in the article may be outdated. Please look at the time stamp on the story to see when it was last updated.
An assault charge has been filed against a Los Angeles County probation supervisor who was present when several officers were caught on tape pummeling a 17-year-old inside a juvenile detention facility last year, prosecutors said Wednesday.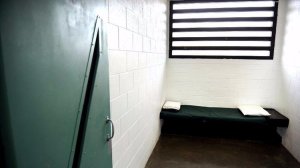 Sergio Cano pleaded not guilty to one count of assault under color of authority in Los Angeles County Superior Court on Wednesday morning. It was not immediately clear if charges had been filed against the other probation officers involved in the incident, but court records indicate two other defendants have been charged in the case.
The incident was thrust into the public eye in the summer, when someone leaked a copy of the video to the blog WitnessLA. The news blog said at the time it wasn't publishing the video because it involved a minor, but that the footage showed four officers punching and kicking a "non-combative 17-year-old probationer" while a supervisor looked on in April.
The officers and supervisor were placed on administrative leave shortly after the incident, probation officials said last year.
Click here to read the full story on LATimes.com.