This is an archived article and the information in the article may be outdated. Please look at the time stamp on the story to see when it was last updated.
People who gave false statements to investigators may face charges in the bizarre case of a 22-year-old San Bernardino woman who was found safe after a 10-day disappearance, the city's chief of police said Thursday. Meanwhile, the woman herself released a statement in which she addresses the incident and issues and apology.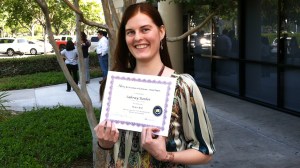 Prosecutors will decide whether to seek restitution in connection with the investigation, which cost more than $24,000 and required the use of valuable resources, San Bernardino police Chief Jarrod Burguan said in a video statement.
Statement: San Bernardino Woman Addresses Her Disappearance After Being Found Safe
Sahray Barber, who was pursuing an associate's degree in graphic design, vanished on March 9 after she was seen leaving her apartment in the 1500 block of West Northpark Boulevard (map).
Authorities quickly deemed the disappearance as suspicious, mostly because some of her belongings were found in bushes near the apartment complex where she lived. Her home was across the street from Cal State San Bernardino, where a series of crimes, including an attempted sexual assault and kidnapping, were recently reported.
There was no indication of a struggle, investigators said.
In an 826-word statement emailed to KTLA on Thursday, Barber said she felt "entirely hopeless" at the time and decided to leave after a string of personal hardships that included the loss of her vehicle in a traffic accident and difficulties with regard to her studies.
"I didn't intend on ever coming back or being found so I dropped my stuff over the wall and walked away with just a bit of cash," she wrote. "Eventually public transportation and God's guidance took me to Los Angeles."
A passerby found the belongings and turned them in to the apartment complex's manager, who eventually determined they were Barber's property. The manager asked Barber's roommates about her, who said they hadn't seen her since earlier that morning, according to police.
While she was in the L.A. area, "she ended up in the hospital" where she identified herself by an assumed name, Burguan said.
"She saw herself on the news while she was in the hospital and knew that people were looking for her, and she still failed to come forward," he said. After leaving the medical center she went to "a shelter-like facility," where her true identity was discovered, according to Burguan.
In Barber's statement, she said she met someone she described as an "angel."
"She had no idea who I was, she just realized I wasn't where I belonged and wanted to help me," Barber wrote. "She convinced me to open up to her and then to let her call my dad."
On March 19, Barber's father called police and said his daughter had contacted him. Detectives went to the facility and she agreed to return to San Bernardino with them.
She was not involved in any criminal situation, the Police Department said.
"I ask for everyone's forgiveness, most especially my wonderful family for all the worry and long nights I caused you, and all the amazing men, women, dogs and horses that searched for me through so many nights and days," her statement said.
Witnesses who were interviewed in the case had misled investigators, according to Burguan.
Barber's roommates "had given us information throughout the course of the investigation that caused our detectives to question their honesty" the chief said. As a result, Burguan said, they were asked to take polygraph exams whose results raised "the possibility that deceptiveness existed in what they were saying."
Within the next two weeks, the police officials plan to submit a case to the San Bernardino County district attorney's office in connection with the alleged false statements.
"It will also be up to the courts, and to the district attorney, as well as the San Bernardino city attorney's office to determine if we're going to seek restitution and what that restitution might ultimately be," Burguan said.
More than $24,000 was expended in overtime pay as part of the investigation, including more than $20,000 during its initial phase, according to the chief. Those figures did not include on-duty time, use of a helicopter and certain investigative techniques, he said.