This is an archived article and the information in the article may be outdated. Please look at the time stamp on the story to see when it was last updated.
COVINA, Calif. (KTLA) — A homicide investigation was underway in Covina after the discovery of a charred body early Tuesday.
The remains were found around 3:45 a.m. on East Covina Hills Road near East Via Verde Street, according to the Los Angeles County Sheriff's Department.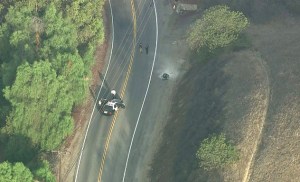 Deputies who were on patrol in the area noticed a fire burning, which they put out with an extinguisher. That's when they found the body.
The victim was pronounced dead at the scene. It was unclear if the victim was a man or a woman.
Homicide detectives were at the scene, and closed off East Covina Hills Road for the investigation.