This is an archived article and the information in the article may be outdated. Please look at the time stamp on the story to see when it was last updated.
In another dramatic shake-up at the Los Angeles Times, Chicago journalist Jim Kirk will be named editor in chief of the newspaper, replacing Lewis D'Vorkin, who will move to another position within the parent company.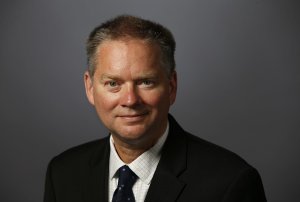 The move — which is expected to be announced Monday— follows two weeks of turmoil at The Times, including a unionization vote by newsroom employees and accelerating hostilities between D'Vorkin and his staff.
Kirk, who previously served as publisher and editor of the Chicago Sun-Times, joined The Times' parent company, Tronc, in August. He was named interim editor of the Times on Aug. 21 after a sweeping shake-up of top editors, but Kirk stepped aside after D'Vorkin joined The Times in early November.
But this time around, Kirk, 52, is being named the permanent editor to lead The Times' newsroom, said Marisa Kollias, spokesperson for Tronc. D'Vorkin, who was the chief product officer at Forbes until October, becomes the chief officer to develop content for digital and mobile consumers, according to the company.
Read the full story on LATimes.com.