This is an archived article and the information in the article may be outdated. Please look at the time stamp on the story to see when it was last updated.
Three Los Angeles police officers violated department rules for using deadly force when they fatally shot an unarmed man following a high-speed chase last year, LAPD Chief Charlie Beck has found.
Beck rejected the officers' claims that they opened fire because they feared that their lives were in danger.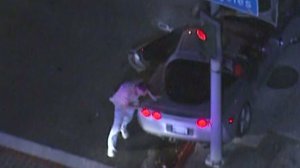 "The preponderance of the evidence does not independently support [the officers'] perceptions that a deadly threat was present," Beck wrote in a recently released report. The Dec. 13, 2013, shooting drew national attention after local news programs televised it live.
The suspect, Brian Newt Beaird, had turned and was moving away from officers when the three opened fire, according to the video footage.
FULL COVERAGE: Corvette Pursuits Ends in Fatal Police Shooting Live on TV
Beaird was hit by 15 shots. The three bullets that mostly likely killed Beaird, a 51-year-old National Guard veteran, struck him from behind, the report said.
Click here to read the full story at LATimes.com.