This is an archived article and the information in the article may be outdated. Please look at the time stamp on the story to see when it was last updated.
A 2-year-old Chihuahua rescued from the concrete divider of a busy Northern California highway is safely home with its owners, who had been searching for it for days.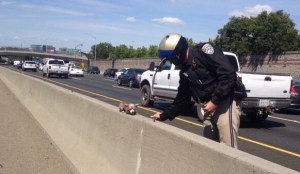 The dog named Charm had reportedly dug a hole under the family's fence and escaped, probably running toward a nearby onramp to Interstate 680 in Walnut Creek, said Lt. Jane Andreotti of Contra Costa Animal Services.
After escaping the family's home, the dog ran across traffic lanes, avoiding cars and somehow hopped onto the divider. Fearing for its life, the Chihuahua clutched onto the divider and remained there until authorities arrived, she said.
"It's highly unusual but not impossible," Andreotti said. "When they are frightened, they will do crazy things."
Click here to read the full story on LATimes.com.
[facebook url="https://www.facebook.com/ktla5/posts/10152414930844614″]