This is an archived article and the information in the article may be outdated. Please look at the time stamp on the story to see when it was last updated.
A 3-year-old boy who climbed into a hot car in Sylmar and could not escape was transported to the hospital in grave condition and later died, authorities said Wednesday.
The child was found in cardiac arrest inside a locked car when firefighters arrived at the 14400 block of Foothill Boulevard (map), according to Katherine Main of the Los Angeles Fire Department. He was transported to Olive View Hospital in grave condition, Main said.
He was not breathing when first responders arrived after being called to the scene about 3:30 p.m., according to Officer Bruce Borihanh with the Los Angeles Police Department's Media Relations Section.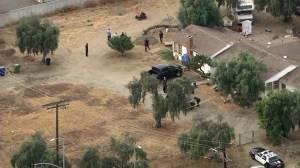 The boy had been playing outside when he climbed into a car and could not get out, according to LAPD Sgt. S. Carlsen.
The situation appeared to be a "tragic accident," he said.
The child, his parents and a 14-year-old brother had all taken midday naps about 12:30 p.m., LAPD Lt. Paul Vernon said.
While the others were asleep, the younger boy apparently wandered outside and climbed into a black Toyota sedan on the family's property, according to Vernon.
"They woke up around 3:30 p.m., the dad went out looking for the 3-year-old to check on him and found him inside the black sedan," Vernon said.
His father took him inside, administered CPR and then called 911 when the boy could not be revived, Vernon said.
The forecasted high temperature for Sylmar was 96 degrees Wednesday, according to the National Weather Service.
So far this year, 19 children have died of heatstroke after being found in vehicles, according a report from San Fransisco State University.
In approximate 30 percent of cases, the child was playing in an unattended vehicle, the findings showed.
"It's a good wake-up call to all parents to not take for granted what your kids are doing and to always check up on them and know what they're up to, even in your own home," Vernon said.
Multiple officers were at the scene, a residential home on a large lot, aerial video showed.
Two black vehicles were in front of the home and were cordoned off with yellow police tape: the Toyota sedan and Toyota pickup truck.
A stroller and a child's toy truck stood by the walkway to the home.
KTLA's Nidia Becerra Tijerino contributed to this article.