This is an archived article and the information in the article may be outdated. Please look at the time stamp on the story to see when it was last updated.
A 37-year-old man and his 6-year-old daughter died Sunday after the SUV in which they were traveling collided with a box truck on the northbound 405 Freeway in Van Nuys, officials said.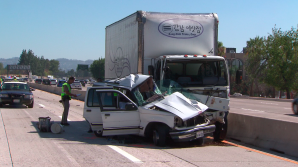 The crash was reported about 12:45 p.m. near Sherman Way, where the driver of the Ford Explorer apparently lost control and crossed all lanes before being struck on the driver's side by the truck, according to an incident report on a California Highway Patrol website.
A male adult who was in the Ford died at the scene, said CHP Sgt. Heather Hogland.
Four other occupants of the SUV — a woman and three children — were transported to hospitals in unknown condition, the sergeant said. Hogland described the minors as "car-seat age."
One of the children was pronounced dead at the medical center, the Los Angeles Fire Department said on Twitter.
The deceased victims were later identified as Efrain SifuentesHurtado and his daughter, Luz Yanet Sifuentes, residents of Van Nuys, according to the Los Angeles County coroner's office.
Three occupants of the truck were also hospitalized in fair condition, according to the LAFD.
Whether the drivers and passengers had been wearing seatbelts was not immediately known.
The incident initially prompted a SigAlert and the closure of all northbound lanes at the scene. All lanes were reopened by 5:39 p.m., the CHP announced  on Twitter.
The cause of the collision was under investigation.