This is an archived article and the information in the article may be outdated. Please look at the time stamp on the story to see when it was last updated.
A little boy was safely recovered after his father snatched him away after fatally shooting the toddler's mother in Long Beach on Tuesday, according to the couple's neighbors and police.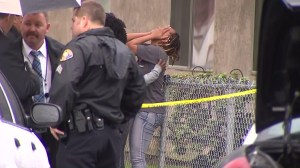 Police were sent to the 1900 block of Chestnut Avenue (map) regarding a possible domestic violence incident at about 8:30 a.m., said Marlene Arrona, a spokeswoman for the Long Beach Police Department.
Officers arrived to find a woman down in an alley from an apparent gunshot injury. She was pronounced dead at the scene.
A neighbor who called 911 told KTLA she saw the victim holding a child shortly before the shooting. The shooter fled with that little boy, police said.
The boy is the son of the victim and the alleged gunman, multiple neighbors told KTLA. 
Investigators set up a perimeter to search for the gunman, and officers detained two people of interest, police said.
The two men were taken into custody in the 1800 block of Chestnut Avenue, and the boy was found with one of them. One man thought to be the shooter, but investigators initially weren't sure which one, police Sgt. Erik Herzog said on scene.
The toddler appeared to be unharmed, according to Arrona.
The little boy was being cared for by police officers, and the department was working with the Los Angeles County Department of Children and Family Services.
The victim did not have any identification on her, and police did not plan release her name until the coroner's office has confirmed her identity.
Police also did not name the suspect.
KTLA's Jennifer Thang contributed to this article.