This is an archived article and the information in the article may be outdated. Please look at the time stamp on the story to see when it was last updated.
A vigil was held Friday night for 4-year-old Evan Butterfield, just hours after a man suspected of killing the boy in a hit-and-run accident in Florence turned himself in to authorities.
The unidentified man surrendered around 3:30 p.m. to police in Bell Gardens and was turned over to the California Highway Patrol who was handling the case, according to Lt. Jose Carlos of the Bell Gardens Police Department.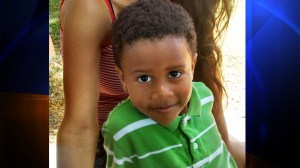 The boy's mother, Ronisha Butterfield, was overcome with emotion when she was told about the man's surrender.
While relieved by the news, the distraught mother lashed out at the man suspected of killing her son.
"You didn't stop, you could have stopped," Butterfield said. "You dragged my baby and you crushed his skull. My innocent little baby, he died on impact."
The crash occurred just after 7 p.m. on Thursday at the intersection of Holmes Avenue and Firestone Boulevard in the Florence area, according to Sgt. Miguel Ornelas with the Los Angeles County Fire Department.
Two cars were stopped at the intersection when a third car ran the red light by driving between them and struck Butterfield and a female relative, who were within a marked crosswalk, according to a press release from the CHP.
Jeronimo Zaca, 32, was one of the motorists sitting at the red light.
Zaca said the speeding car hit his 2005 Chevrolet, then bounced off another vehicle before striking the woman and the boy.
The second vehicle that was struck, a 2007 Nissan, was being driven by 62-year-old Antonio Moreno, according to the CHP.
The woman, later identified as 23-year-old Brianna L. Puryear, was knocked to the ground by the impact and the push wagon carrying Butterfield was thrown 200 feet down the street, Zaca said.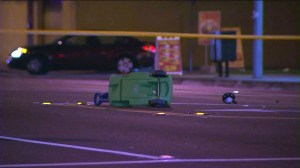 After the crash, the driver turned onto Holmes Avenue and stopped. Witnesses said he and a female passenger got out of the vehicle and started running away.
Bystanders were able to catch up with the woman and held her until police arrived.
Sheriff's deputies escorted an ambulance carrying the child to Harbor UCLA Medical Center, where he was pronounced dead, officials said.
Puryear, described by family members as the boy's aunt,  was released from the hospital Friday afternoon after suffering a broken leg.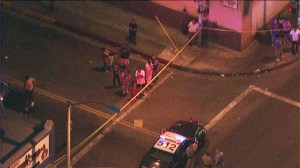 "I just feel overwhelmed with emotion," Puryear said.
The hit-and-run vehicle was described as a red 2013 Toyota with an Arizona license plate, according to the CHP. Authorities had initially said it was Honda.
The driver was described as a Hispanic man, 23 years old, with sleeve tattoos, facial piercings and long hair with shaved sides.
His name was not released.
More Videos: