This is an archived article and the information in the article may be outdated. Please look at the time stamp on the story to see when it was last updated.
Two drivers have been arrested after a 9-year-old boy was killed in a hit-and-run at an intersection in the city of Orange, authorities said Friday.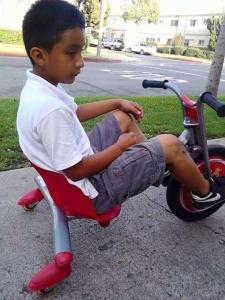 The collision occurred about 9:30 p.m. Thursday at North Glassell Street and East Wilson Street, as the victim was crossing Glassell with his older sister, according to a news release from the Orange Police Department. A family member initially said the boy was with his mother.
Witnesses told investigators that the boy was struck after two northbound vehicles both ran a red light, adding that neither vehicle stopped after the collision.
According to police, the two vehicles later crashed about a half-mile away, at the intersection of Glassell and East Taft Avenue, and the drivers were detained by officers. There were no passengers in the vehicles.
Miguel Villa Gomez, 26, and Jerro Roderick, 51, were each booked into the Orange County Jail on suspicion of vehicular manslaughter, the statement said. Roderick was also booked on suspicion of hit-and-run resulting in a death.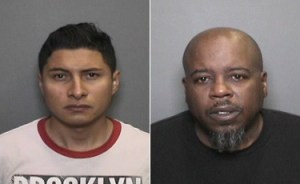 Orange Fire Department paramedics responded to the scene and transported the 9-year-old to a hospital, where he later died, the news release said. His sister was uninjured.
The boy, Jessie Rosales, had just moved to the area with his mother, brother and two sisters on Saturday, according to Aaron Casarres, the victim's uncle. Friday marked one sister's 15th birthday, Casarres said.
Mourners were seen using balloons, candles and greeting cards to create a makeshift memorial at scene Friday morning.
Arturo Nevarez, a friend of the victim's family, told KTLA that two vehicles were street racing with their lights off when Jessie was hit.
"I heard boom, boom, like a big, big accident," Nevarez said.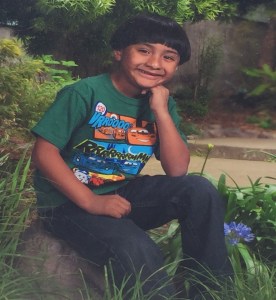 Although the vehicles did not collide with each other at the first intersection, one of them "hit the kid and that's it," Nevarez said.
"Those guys (were) racing with their lights off," Nevarez said.
Orange police later stated, however, that they did not believe any street racing was involved. It appeared that the suspects did not know one another.
Alcohol was also not believed to have been a factor either in the collision.
It was not known what led up to the vehicles running the red light.
An investigation was ongoing. Anyone with information about the case was asked to call the Orange Police Department at 714-744-7444.
Correction: The hit-and-run victim's name was misspelled in an earlier version of this report. The article has been updated.
More video: