This is an archived article and the information in the article may be outdated. Please look at the time stamp on the story to see when it was last updated.
Police were investigating the apparent gang-related shooting of a man and a child in Long Beach on Monday night.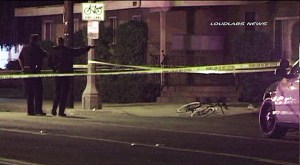 The shooting occurred just before 7 p.m. in the vicinity of Orange Avenue and East 70th Street (map), according to Long Beach Fire Captain Jim Arviz.
The man was walking with his bike when someone from a passing car opened fire, police said.
The man and a 5-year-old boy, who was playing nearby, were wounded in the shooting.
Both were transported to the hospital in stable condition.
Police said the gunman were traveling in a light colored vehicle.
Anyone with information was urged to contact Long Beach Police at 562-570-7260.