This is an archived article and the information in the article may be outdated. Please look at the time stamp on the story to see when it was last updated.
In what was initially described by Los Angeles police as a stabbing, an 11-year-old boy was apparently randomly attacked on the steps of Disney Concert Hall Thursday by a possibly mentally ill man wielding a set of keys, authorities said.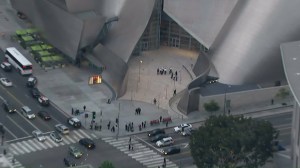 Police were called to the intersection of Grand Avenue and First Avenue — where the concert venue's main entrance is — at 3:42 p.m., according to Officer Aaeron Jefferson with the Los Angeles Police Department's Media Relations Section.
Jefferson initially said a child was stabbed and one suspect was in custody.
The head of security for Disney Concert Hall told KTLA the child was a fifth-grader who was on a field trip. The victim was on the concert hall steps when a possibly mentally ill man ran up and slashed the child with a set of keys, the security chief said.
Deputy Ryan Rouzan with the Los Angeles County Sheriff's Department, which was investigating, said investigators were calling the incident a "light assault." The victim was hospitalized as a precaution, the deputy said.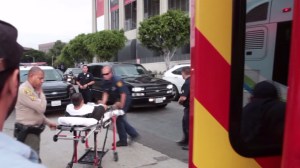 The attacker grabbed the boy around the neck, according to Lt. Bob Killeen with the sheriff's County Services Bureau.
The boy had "very minor cuts" to his neck area, Killeen said.
"He's a trouper," Killeen said.
Concert hall security officers detained the man quickly and probably saved the boy from further injury, Killeen said. He was taken for a mental health evaluation before being booked.
"It appears to be a random act. The child seemed to be randomly selected," the lieutenant said.
Some children in the group were "shook up," he said.
A musician at the concert hall said the children were from Mount Washington Elementary School.
Rouzan initially described him as 10, but authorities later said he was 11.
KTLA's Scott Williams contributed to this article.