This is an archived article and the information in the article may be outdated. Please look at the time stamp on the story to see when it was last updated.
A group of children protested Friday the recent removal of an alligator from a Rancho Cucamonga home where the animal had lived at since 1987.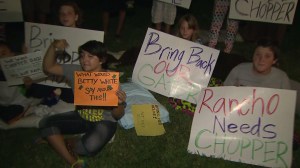 "We just really want her back, so bad that it's not even funny," neighbor Braden Zazueta said.
Chopper, a 30-year-old alligator that weighs 125 pounds, has lived with Chris Cassaro in the 7700 block of Arroyo Vista (map) since 1987.
"I never had children. She is my child," Cassaro said of Chopper.
The alligator and two venomous snakes were removed from Cassaro's home Thursday by California Department of Fish and Wildlife officials, which said the animals were not legal to own.
After Chopper began getting attention, Cassaro said he tried to make sure she was legally owned and obtained a permit.
"I worked with the city of Rancho Cucamonga for almost a year, jumping through their hoops, doing their conditions, getting my neighbors in agreement," he said.
Although Cassaro was unable to find the permit when fish and wildlife officials came to remove the animals, the officials said it would not have made a different.
At least a dozen neighbors staged a sleep-in Friday night in an effort to help Cassaro get his alligator back.
"She's been living here 30 years, I think she should live here 30 more because it's just her home. Everybody has grown to know her and love her," neighbor Hunter Oslund said.
One parent said Chopper provided local children with a unique experience.
"Most children go their whole lives without that opportunity, our neighborhood's been blessed. So to have her taken from us, it's a complete betrayal, in a sense, to our whole entire neighborhood," Amber Parks said.
Alligators are on California's list of restricted species and Cassaro would need a state license to keep her, fish and wildlife officials said.
Cassaro did not have a state license, and officials said it was unlikely he would get Chopper back.