This is an archived article and the information in the article may be outdated. Please look at the time stamp on the story to see when it was last updated.
A Chino Hills man has been arrested after allegedly pouring boiling water on his girlfriend's caged dog, San Bernardino County Sheriff's Department officials announced Wednesday.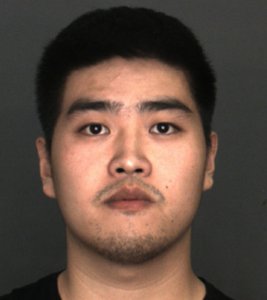 Witnesses on Tuesday apparently called authorities after hearing the dog, Sophie, yelp in pain. Those witnesses, 17-year-old teens, according to the San Bernardino Sun, spotted the man and watched him pour water on the dog at least five times. The incident was recorded on video.
Deputies responded to the 16000 block of Butterfield Ranch Road to do a welfare check on Sophie and found that the suspect, Enping Qu had a tea kettle with hot water on a warming plate.
"The dog's coat and skin were warm from the water," according to a sheriff's news release.
Officials with the Inland Valley Humane Society discovered that the water in the kettle measured at 129 degrees and the dog was taken to a veterinarian for observation.
The video showing the alleged incident will not be released pending the ongoing investigation, officials said.
"From the video that we have for evidence the dog was yelping," Sheriff's Deputy Dan Renear said. "When we got up to the apartment, the dog was skittish and scared."
Sophie was recovering at the Inland Valley Humane Society and taking medication to ease her pain, according to James Edward, the facility's operations manager.
"Given the fact she was burned and she doesn't know why she was burned, it's quite traumatizing to the dog," he said. "When we picked her up she was definitely in shock."
Edward said he expects the pooch to make a full recovery, "but it'll take some time and some love."
Qu, 22, was arrested on suspicion of animal cruelty but later released on bail. Deputies will need to investigate further before arraigning Qu but he could face felony animal cruelty charges, sheriff's officials said.
"He gave us a couple of excuses — 'I thought I was doing it with cold water; I didn't mean to; I gave it a bath earlier in the day' — but nothing really made sense," Renear said.
The deputies used a translator on their phones to communicate with the suspect, who told them that the dog belonged to his girlfriend, according to the Sun. The girlfriend was not home at the time.
Sophie may be returned to her owner, depending on what investigators uncover, Renear said.
What person would pour scalding hot water on this caged, defenseless dog? Well, he's in jail now thanks to Deputy Dan Renear!#NoPetAbuse pic.twitter.com/l8vN4vanrF

— Chief Darren Goodman (@UplandPD_Chief) November 8, 2017