This is an archived article and the information in the article may be outdated. Please look at the time stamp on the story to see when it was last updated.
A Chino Hills High School varsity soccer player has made a hard-fought comeback after suffering a devastating injury that left him partially blind.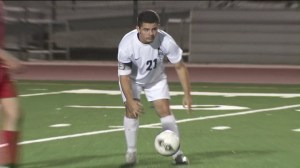 Andrew Hernandez, now 18, was injured when he was hit in the face by a ball kicked by an opponent and knocked unconscious during a 2013 game.
"As soon as I woke up, I couldn't see anything out of my left eye … it was all black," Hernandez said.
The ball's impact caused permanent optic nerve damage, severely affected his depth perception and left him legally blind in his left eye.
But after months of hard work that included several setbacks, the determined teen managed to retrain his body and his senses. Not only did he return to the soccer field, he even became the team's captain and led his team to the playoffs.
His story has served as an inspiration to others, including his mother.
"There's been a lot of times I've wanted to give up on things that are less of a challenge in my life, and I think for a lot of people," Somer Salas said of her son.
Still, Hernandez's injury has made some of his goals impossible to meet, including his dreams of becoming a soldier and then a police officer. He explained that he loves helping people, and that hasn't changed.
"Everything else is good, it's just my left eye," he said. "It's a big deal. I wish it didn't happen but I learned a lot from it."
Hernandez added, "You know God helped me through my injury and come out here every day and I give it my all."
KTLA's Kennedy Ryan contributed to this story.