This is an archived article and the information in the article may be outdated. Please look at the time stamp on the story to see when it was last updated.
A water polo player was airlifted from Don Lugo High School in Chino after being found at the bottom of a pool Thursday evening, a fire official said.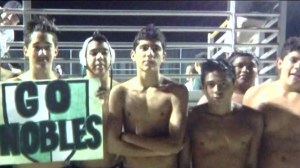 Alejandro Camacho of Nogales High School was playing in the third period of a CIF playoff game against Don Lugo when he suddenly sank to the bottom of the pool.
"The other team had scored so we were lining up to keep going ... when everybody noticed we were still down a player," said Marcos Garcia, the coach for Nogales High School.
Camacho was having an epileptic seizure and nearly drowned.
His father and several of Camacho's teammates jumped into the pool and pulled the 16-year-old out of the water, said Battalion Chief Scott Atkinson with Chino Valley Fire District.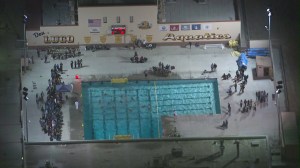 Camacho's teammates said this had happened before, so they knew they had to "let the seizure play out" and wait for help to arrive.
Paramedics responded and took the boy to the school's football field, where he was placed into an Upland Fire Department helicopter, aerial video showed.
Camacho was initially reported to be in critical condition when he was airlifted to Arrowhead Region Medical Center, according to Atkinson, who later said the teenager was breathing on his own and was expected to be OK.
Thank you everyone for your concern for Alejandro Camacho. He is fine and in stable condition. He wants to thank everyone that was there.

— Nogales Aquatics (@NogalesHighPolo) November 14, 2014
Video from Sky5 showed players in the pool and many people gathered around the aquatic facility in the minutes after Camacho was airlifted.
The Don Lugo water polo team's online schedule showed the team had a 5 p.m. CIF first round varsity game against Nogales High School on Thursday.
Despite everything, we went back out and played the best game of the season. Thanks to everyone for the support! Couldn't be more proud!

— Nogales Aquatics (@NogalesHighPolo) November 14, 2014
KTLA's Kennedy Ryan and Nidia Becerra Tijerino contributed to this article.
More Videos: