This is an archived article and the information in the article may be outdated. Please look at the time stamp on the story to see when it was last updated.
A woman seen on cellphone video being repeatedly punched by a CHP officer on the side of a Los Angeles freeway has filed a federal civil rights lawsuit over the beating, her lawyer announced Thursday.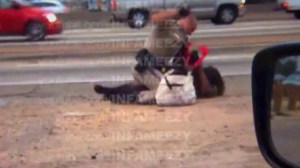 Marlene Pinnock, a 51-year-old homeless woman, was detained July 1 on the side of the 10 Freeway near La Brea Avenue in a violent arrest caught on cellphone camera by a passing motorist. Video of the incident quickly went viral.
CHP officers were responding to a report of a woman walking into lanes on the freeway at the time of the incident, authorities have said.
The lawsuit, filed Thursday, alleges civil rights violations and use of excessive force on the part of the California Highway Patrol officer, who has not been identified.
In the video, the officer could be seen grabbing Pinnock from behind, throwing her to the ground, straddling her and then repeatedly punching her in the face and upper body.
Pinnock alleges in the lawsuit that she "feared for her life and that the viciousness in which she was beaten could have resulted in her death."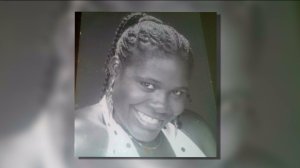 The lawsuit also alleges that CHP misused a felony search warrant to obtain a "statement" from Pinnock when the agency subpoenaed her medical records from Los Angeles County+USC Medical Center. A hospital spokeswoman on Thursday morning confirmed the records had been turned over to CHP.
Pinnock's attorney John Burris said in a news conference Thursday that her client remained hospitalized with a head injury and emotional trauma. Her private conversations with her doctor were obtained by CHP, he said.
"We are extraordinarily concerned that an officer engaged in the conduct that has been demonstrated on the video. Then, the department seems to be trying to convict her, trying to place her in a position of criminality," said Burris, a civil rights attorney who represented Rodney King.
"It doesn't matter what she did beforehand. The level of force that was being used against her … represents constitutional violations," he added.
Pinnock's daughter said dealing with the incident has been overwhelming.
"I just need and want justice for my mom. This shouldn't have happened to her," Maisha Allums said. "I don't want it to happen to anyone else."
CHP Commissioner Joe Farrow, who was named in the lawsuit alongside the unidentified officer, has said he was "deeply concerned" by the video.
Farrow has promised a prompt and thorough investigation.
Pinnock's lawyers said they want the officer fired and charged criminally.
Holding their news conference outside the federal building in Westwood, the attorneys called for the FBI to investigate and seek attempted murder charges against the officer.