This is an archived article and the information in the article may be outdated. Please look at the time stamp on the story to see when it was last updated.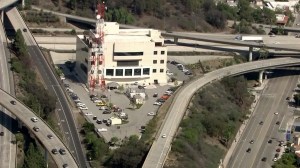 The California Highway Patrol's communications center in Eagle Rock was evacuated after a suspicious and threatening call came in Tuesday afternoon, authorities said.
The building, next to the interchange of the 2 and 134 freeways near the border of Glendale and Northeast Los Angeles, was evacuated following a female caller's nonspecific threats against occupants, CHP Sgt. Jose Nunez said.
The threats do not seem credible, but officers were searching the building for possible explosive devices, Nunez said.
Emergency calls were being rerouted to surrounding communications centers, and 911 callers may face a minor delay, the sergeant said.
Staff from the building — known as the Los Angeles Regional Traffic Management Center — were evacuated to a predesignated location, he said. Staffers and dispatchers from Caltrans and CHP work at the building, which opened in 2007.
CHP officials were setting up easy-up tents in the parking lots of the center, aerial video from Sky5 showed. At least two officers with K-9 partners were walking the parking lot, appearing to inspect vehicles.
An ambulance and fire engine were on scene. The Los Angeles Fire Department was on standby, Nunez said.
Check back for updates on this developing story.