This is an archived article and the information in the article may be outdated. Please look at the time stamp on the story to see when it was last updated.
IRWINDALE, Calif. (KTLA) — The investigation continued on Friday into a tour bus crash on the 210 Freeway in Irwindale that left dozens injured.
It happened just after 10 a.m. on the eastbound 210 just past the interchange with the 605 Freeway.
The Da Zhen Bus was headed from Monterey Park to the San Manuel Indian Bingo and Casino in San Bernardino at the time of the crash, according to the company.
The bus driver was making an unsafe lane change when he clipped the back of a black Hyundai Elantra, according to the California Highway Patrol.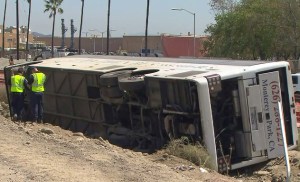 "I was just shaken up; I was a little scared," Melody Bausa, who was driving the Hyundai, said. "I was just hoping everyone else was fine," she said.
Several drivers stopped to help pull injured passengers out of the bus, according to witnesses.
Fifty-two people were injured in the crash, according to the Los Angeles County Fire Department.
Six patients were airlifted to trauma centers, but none of the injuries were life-threatening, fire officials said.
The westbound 210 was used as a landing pad for medical helicopters for about an hour.
Emergency crews also set up a triage area along the freeway. Most of the injuries were minor to moderate, officials said.
Three of the patients ended up at Huntington Memorial Hospital in Pasadena, including the most severely injured — an 86-year-old man with broken ribs.
Two women in their 70s were also taken to Huntington Memorial, including one who was being monitored closely for abdominal pains.
About two dozen people were taken to other local hospitals, authorities said.