This is an archived article and the information in the article may be outdated. Please look at the time stamp on the story to see when it was last updated.
The California Highway Patrol pursued a man in a white sedan Wednesday who was accused of trying to hit an officer during a traffic stop for speeding in Carson, authorities said.
The suspect could be seen driving recklessly on surface streets and freeways across the South Bay.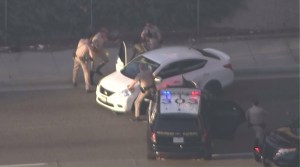 The chase finally came to an end near the intersection of La Cienega and Imperial Highway in Westchester when officers rammed the suspect's car, aerial video from Sky5 showed.
Instead of exiting the vehicle and surrendering, the man appeared to be trying to drive away.
Officers quickly entered the car through the passenger-side door and yanked the driver out of the vehicle.
He was placed face down on the sidewalk and handcuffed.