This is an archived article and the information in the article may be outdated. Please look at the time stamp on the story to see when it was last updated.
Authorities pursued a driver from Long Beach to San Diego County Monday morning before finally taking the person into custody.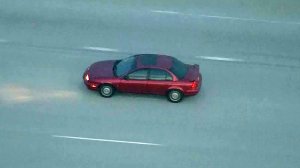 The pursuit began about 4:30 a.m. after the driver failed to yield, said a spokesperson for the California Highway Patrol.
Aerial video from Sky5 showed the car, which appeared to be a red Saturn, being chased by multiple patrol vehicles.
The driver led authorities through several side streets in the Long Beach area and then took to the 405 Freeway.
At one point the driver got on the 710 Freeway but then returned to the 405 and headed into Orange County.
Eventually the driver transitioned to the 5 Freeway and exited in Oceanside, where the pursuit continued on surface streets.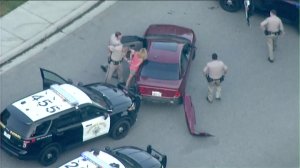 Video showed the driver speed through several intersections, narrowly missing other vehicles.
Authorities then tried stop the pursuit several times, including one attempt that tore off the rear bumper of the Saturn.
The driver eventually drove into a cul-de-sac and made one last attempt to escape by turning around and driving through a lawn.
After returning to the street, the driver was unable to get past several other patrol vehicles and the chase came to an end.
The driver, who appeared to be a woman, was then taken into custody.