This is an archived article and the information in the article may be outdated. Please look at the time stamp on the story to see when it was last updated.
A stolen white van involved in a wild police chase with the California Highway Patrol on South Los Angeles surface streets struck a dog a short time before the pursuit ended, injuring the pet.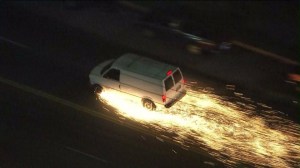 The chase lasted a little more than an hour before it was terminated on Manchester Avenue west of Central Avenue.
It began around 8 p.m. in the area of 77th Place and Central Avenue  after the Los Angeles County Sheriff's Department ran the license plate on the vehicle and it came back as being stolen, according to sheriff's Lt. Jason Wolak.
Deputies tried to stop the vehicle, but the driver wouldn't pull over and a pursuit was initiated, Wolak said.
The Sheriff's Department and the Los Angeles Police Department were involved in the chase before the California Highway Patrol took over.
The van, which had its headlights off throughout the pursuit, was seen veering across lanes and into oncoming traffic, and driving erratically through parking lots and on sidewalks. It almost hit at least two vehicles on separate occasions, aerial video over the pursuit showed.
At times, the vehicle appeared to be driving at a high-rate of speed and was seen traveling on the wrong side of the road.
Pursuing officers attempted multiple PIT maneuvers during the chase, two of which failed. After one of the maneuvers, the van spun around and lost two tires on its left side. The van continued along on the street and began to spark as the driver continued to evade authorities.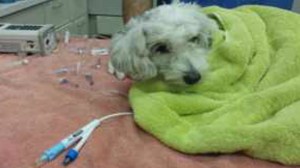 Officers were able to successfully employ a PIT maneuver on the third attempt and stopped the van around 9:10 p.m.
Surrounded by law enforcement personnel, the male driver and a female passenger slowly got out of the vehicle and appeared to surrender before they were handcuffed and taken into custody.
A short time before the pursuit ended, video showed the van hitting a white dog as it was walking down a quiet residential street.
The dog, named "Gordo," was badly injured and was rushed to City of Angels Veterinary Specialty Center in Culver City, his owner said.
As he anxiously awaited the condition of his beloved pet late Wednesday, Santos Son told KTLA that his dog was like family to him.
"I love him so much," Son said.
Veterinarians eventually assessed Gordo's condition and said the dog was going to be OK, according to Son.
He was expected to be released from the hospital on Thursday around 10 a.m.
The animal hospital said it has received an outpouring of support for Gordo and that phones were ringing off the hook.
Anyone who wanted to donate and help the family cover the cost of Gordo's veterinary expenses could visit the animal hospital's website by clicking here.
**Update: We just heard the #pursuit dog is on the way to the vet. Hoping for a good outcome! #savethewhitedog

— LAPD Southeast (@LAPDSoutheast) September 18, 2014
Move Video: