This is an archived article and the information in the article may be outdated. Please look at the time stamp on the story to see when it was last updated.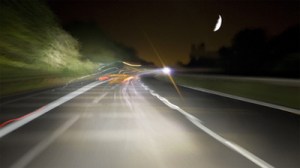 PHELAN, Calif. (KTLA) — A naked woman was arrested Thursday after hitting her equally naked fiance with his car.
It happened around 12:40 a.m. on Phelan Road.
According to the CHP, the couple were in the parked car when Alberto Giovanni Bravo got out and walked in front of the vehicle.
His unidentified female companion then jumped into the driver's seat and drove forward, striking Bravo.
After hitting Bravo, the car veered across the road, bounced off a chain-link fence and 2 trees before finally stopping, according to the Daily Press.
Bravo was airlifted to Antelope Valley Hospital in serious condition.
The woman, his fiancée, was arrested for felony DUI.
"Part of this investigation is of a sensitive nature and still under investigation," the CHP told the Daily Press.
"Until that portion of the investigation is cleared up, we will be holding off on releasing the name."