This is an archived article and the information in the article may be outdated. Please look at the time stamp on the story to see when it was last updated.
A California Highway Patrol officer was injured when his motorcycle was involved in a crash while escorting the motorcade of Canadian Prime Minister Justin Trudeau, authorities said Saturday.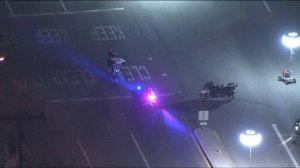 The officer's motorcycle collided with a vehicle Friday in Simi Valley, according to spokesman Steve Swindle of the Ventura County Fire Department.
Trudeau was not injured, a Canadian government source told CNN.
The officer and a person aboard the vehicle were taken to the hospital with injuries that were not life-threatening.
"The … officer was thrown off the motorcycle. The vehicle involved in the crash was not part of the motorcade," Simi Valley Police Sgt. Chris Johnson said.
The crash happened as the motorcade was leaving the Ronald Reagan Library, where Trudeau delivered a speech on the friendship and partnership between the United States and Canada.
Trudeau is on a three-day trip to the U.S. to discuss economic and political ties between the two countries.
He visited Chicago and California, where Trudeau and Lt. Gov. Gavin Newsom discussed trade and economic growth, the Prime Minister tweeted.
The leaders also talked about immigration, universal health care and climate change, according to Newsom.
On Saturday, Trudeau met Los Angeles Mayor Eric Garcetti for a hike at Griffith Park.