This is an archived article and the information in the article may be outdated. Please look at the time stamp on the story to see when it was last updated.
A California Highway Patrol officer involved in a motorcade for Canadian Prime Minister Justin Trudeau in Simi Valley was injured in a crash Friday night.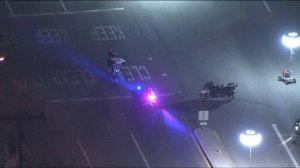 The crash occurred about 7:20 p.m. near the intersection of North Madera Road and East Easy Street. The male officer was taken to a hospital for moderate injuries, according to the Ventura County Fire Department. No other injuries were reported.
It is unclear how the crash occurred.
The West Valley officer appeared to have been working the motorcade for Trudeau's visit to the Ronald Reagan Presidential Library, Simi Valley Police Commander Ritchie Lew told KTLA.
Police asked motorist to avoid the area of Madera Road and Aristole Street after the crash. The road was reopened about 11:45 p.m.
Update on motorcycle accident on Madera in Simi Valley: confirming it was a CHP Motor Officer on a VIP escort to Reagan Library. Officer was transported to hospital due to moderate injuries @VCFD

— VCFD PIO (@VCFD_PIO) February 10, 2018
An honor to be @Reagan_Library with Canada's Prime Minister @JustinTrudeau! Love the bipartisanship of @ronaldreagan40 pic.twitter.com/gihdcZdCyM

— Claudia B-de la Peña (@Claudia_Bill) February 10, 2018
KTLA's Nidia Becerra contributed to this story.