This is an archived article and the information in the article may be outdated. Please look at the time stamp on the story to see when it was last updated.
A 35-year-old CHP officer who was fatally struck while directing traffic near Truckee on Interstate 80 in the Sierra Nevada was remembered this week in an emotional bell-ringing ceremony in Sacramento.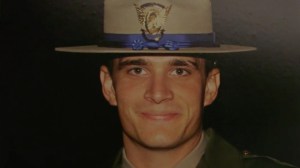 Officer Nathan Taylor was struck by a driver who lost control of her SUV while he was closing a lane at the site of collision on the freeway in the Donner Pass area on the afternoon of Saturday, March 12.
He was flown to a hospital in Reno, Nevada, but died Sunday night. A procession to bring his body home was expected Wednesday afternoon.
On Tuesday, CHP officials and his fellow officers remembered Taylor during a ceremony at the agency's West Sacramento academy that marked Taylor's end of watch.
"He joins the selfless group of heroes who have sacrificed their lives for the safety, the service and security of others," said CHP Commissioner Joseph A. Farrow. "It is my solemn honor to call the name of the California Highway Patrol's most recent hero."
The ceremony was documented in a video posted by CHP Tuesday afternoon.
Since his death, tributes to the Rocklin officer have described his generosity and kindly manner. A backcountry skier who was forced to hitch-hike posted on Facebook about Taylor picking him up and giving him a ride.
"When he dropped me off, he gave me his personal phone number and told me to call him at 6:30 if I hadn't gotten a ride – he would pick me up after he got off work and drive me to family in Sacramento," Paxton Brewer wrote on Facebook. "Nathan Taylor was a good man. He was kind, and giving, and he wanted to help. He challenged my prejudice against the police. He inspired me to be a better man."
Just days before he was killed, Taylor carried an elderly woman from her vehicle to his after she crashed in a heavy rain storm, KXTV in Sacramento reported.
Taylor was a nearly six-year member of the California Highway Patrol, and was assigned to the San Jose office before transferring to the Gold Run officer in 2013.
He is survived by his wife and three sons, age 3, 5 and 8, according to Gov. Jerry Brown's office. One of his brother is also a CHP officer.
Brown and state Attorney General Kamala Harris, among many others, have expressed condolences for the family.
The Nathan Taylor Memorial Fund has been established with the CAHP Credit Union, and donations can be made by calling 800- 542-2247 or by mail at P.O. Box 276507 Sacramento, California 95827, according to CHP's Truckee office.