This is an archived article and the information in the article may be outdated. Please look at the time stamp on the story to see when it was last updated.
A pair of California Highway Patrol officers helped a woman deliver her baby on a Los Angeles freeway on Mother's Day.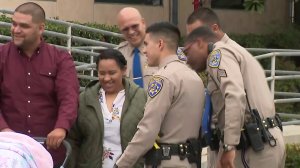 At approximately 4 p.m., CHP officers Richard Yebra and Kyle Biedermann responded to a medical emergency call of a mother in labor on the northbound 5 Freeway, north of Main Street, in Lincoln Heights, according to a news release. The officers contacted Liliana Alamillo Lopez, who "expressly proclaimed to officers the imminent birth of her child," CHP stated.
Within a few minutes of being on scene, the officers put on their medical gear and helped Alamillo Lopez with the delivery of her daughter, Mia Ariyah Lopez, according to the statement. Both the mother and baby girl were examined by L.A. Fire Department personnel and then transported to L.A. County-USC Medical Center for further medical care, authorities said.
On Friday, the family and officers Yebra and Biedermann were reunited during a news conference in which they recounted the baby's birth.
"The fact that they're healthy and I get to see them again, it just makes everything just so worth it," Yebra said.
Biedermann also described what was going through his mind during the delivery.
"Training kicks in, and you just have to get the job done," he said said. "You don't really think about everything that's happening until after the fact. After the fact we were talking about it and we were just like, 'Wow! We delivered a baby.'"
Yebra was on his last day of training when little Mia was born. With less than six months in the field, he now has quite the heroic tale to tell.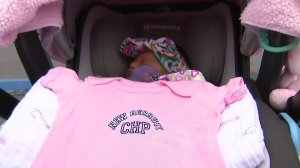 "I called my mom and I let her know and it was great," Yebra said. "She couldn't believe it, and it was an awesome feeling."
The Lopez family said they have much to be thankful for.
"I'm just grateful they appeared there because I really do not know what I would have done," Alamillo Lopez told KTLA.